The multifunctional chestnut drawstring laundry bag
The multifunctional chestnut drawstring laundry bag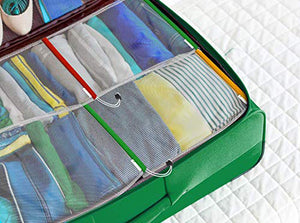 With the Chestnut underwear bags, both socks will survive the laundry. This garment bag for washing delicates prevents your clothes from all the unjustified violence they encounter in your washing machine and dryer.
Drawstring garment bags - travel laundry bag for washing delicates. Pack of 3, size:12"x10". Made of polyester.
These lingerie laundry bags for washing machines do not fade, and unlike zippered bags, protect your delicates from snagging
Storage durable organize bags are perfect for organizing your belongings while traveling and can be used as toy bags as well.
Reusable and multifunctional, zero waste: use for laundry (lingerie, knit, bra, underwear, baby clothes), gym, traveling, grocery shopping & storage, for college students.