Ideas for Gifts with Less Plastic
Ideas for Gifts with Less Plastic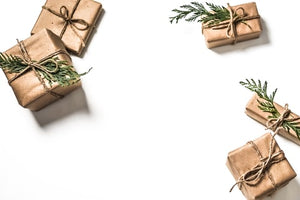 Hi! My name is Shelby, and I wish to share with you some helpful ideas for presents that don't contain plastic and are absolutely eco-friendly. Nowadays, more and more people try to take care of our planet, and they will be happy to get a gift that is harmless to the environment. However, it can be challenging to come up with an idea of a kind present without plastic. So I decided to give you some new options.
Houseplants
Such a present is a good idea for any celebration, for instance, a birthday party, house-warming, wedding anniversary and so on. What can be more useful for nature than to present somebody the part of it? There are a lot of various kinds of houseplants. They can be rather small, for example, when you wish just to make something pleasant for a person. There are also large plants which can take a lot of space. Therefore, take room sizes into consideration. 
To be completely eco-friendly, you can present houseplants that produce a large amount of oxygen. They include ferns, snake plants, peace lilies, and many others. If a person lives in a private house, you can present even a tree. But be sure that you buy a plant in the pot without plastic.
Homemade Things
It is commonly known that the best present is a handmade present. If you make something with your own hands, you give a part of your heart, soul, and energy. A person getting this present will definitely feel it. This makes such gifts unique and really precious. Here everyone can show a talent. 
Do what you like most of all. If you prefer knitting, make a beautiful scarf or warm gloves. If you are fond of embroidering, make a picture that will become a highlight of the interior. I am keen on baking. Therefore, I like to present wonderfully decorated biscuits or some cakes. My husband also makes house wine. So the bottle of such a beverage is another perfect gift.
Reusable Eco-friendly Gifts
This type of present is not only beautiful but also very useful for any person. If you want to present something more practical, this option is just for you. Reusable gifts include various lunch boxes, thermoses, tumblers, bottles, etc. A person will probably recollect you every time he or she uses this product. 
Personally, I bought a perfect silver thermos for my husband, designed by The Chestnut company. He takes this thermos box with lunch to the office every day and says that it has a lot of advantages:
It can contain enough food to eat for lunch;

The thermos keeps a high temperature for two hours;

Fresh salads or fruit can be kept cold for four hours;

It will serve very long since it is made of stainless steel;

The thermos does not leak if it is closed properly.
These thermoses can also be pink and blue. So it is a cool gift for men, women and even children. You can take it to the office, school, university, etc.
Present the Emotions
Nowadays, it is becoming more and more popular to present some emotions or a great experience. By this, I mean that you can give a specific certificate to visit a cool event or try some extreme kinds of sports. This can be anything that you can imagine and afford. There are some budget options, for instance, tickets to a concert, cooking master class, yoga training, gym or swimming pool membership, etc.
If you are ready to spend more money, present the opportunity of going skydiving, bungee jumping, kayaking, or canoeing. If you look for a present for a close person, why not organize a joint trip at least for a few days. It may be a trip to the mountains, tour across different countries, or a small journey to the sea. 
A great idea is to present dinner in a luxurious restaurant with a beautiful view. Book the best table, order favorite dishes, and enjoy a perfect evening in a cozy atmosphere. If a person needs to take care of our planet and health, visit an organic restaurant. Such a gift will bring unforgettable emotions and memories for the rest of your life.
So, as you can see, there are a lot of various options. You can choose a cheaper gift for small occasions and some luxurious variants for a serious celebration. The main thing is that it is possible to present something really original and at the same time eco-friendly.