Lunch Box Ideas in Different Countries
Lunch Box Ideas in Different Countries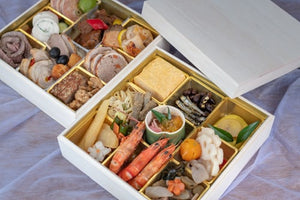 Hi! My name is Shelby, and today I would like to share with you some ideas about making tasty lunches from all over the world. Nowadays, it is becoming more and more essential to take individual lunch boxes to the office, school, or university. Firstly, you don't waste much time staying in a long queue to buy any food. Secondly, you can experiment and cook whatever you like. 
There is a vast range of lunch boxes on the market. They have different sizes and properties. Some of them are too small to contain enough food. Others don't keep the temperature for a long time. I have found a perfect option – The Chestnut lunch box which meets all the requirements:
It can hold both high and low temperatures. As a result, you can enjoy warm meat with a side dish or a fresh salad in a few hours.

It can contain 500 ml, which is just enough to have a good lunch. At the same time, it is compact and doesn't take a lot of space.

It looks very stylish and modern. Designers created poppy red lunch boxes. Therefore, they perfectly suit children as well as adults.
What Lunch Can Be Made for Such Boxes?
Every country has its own food preferences. Some nations get used to eating very much at lunch while it is just time to have a snack for others. I have found some great ideas about lunch box food from various countries. So everyone can choose something for themselves.
France
The French like nobody else like eating various pastry types. A croissant or baguette filled with ham, cheese, and vegetables can be a good idea for a light snack. You can cut it into several pieces to be easily put into a lunch box. Another option is to cook an omelet with vegetables or cheese. The process of cooking is swift. Therefore, it is an ideal option when you don't have a lot of time.
Italy 
Italians prefer eating in large portions. This country is famous for its delicious cuisine. For example, a lunch box will perfectly suit for pasta or risotto. You can add there whatever you wish from meat and vegetables to fish and seafood. Choose an ideal sauce for your dish, and enjoy a perfect lunch.
Spain  
Traditional Spanish paella is a tasty and hearty meal that can fit inside a lunch box. Rice with seafood will give you enough energy for the rest of the day. The Spanish can also eat fish with various garnishes and sauces or a meat stew for lunch. For seafood fans, this cuisine is the best option.
India 
Indian cuisine is appropriate for fans of very spicy food. All dishes are usually full of various condiments. Their traditional lunch is called Tiffin. It can be cooked in different variations. But the most popular one contains rice, dal, pickles, vegetables, curry, and Indian bread. However, you can change some ingredients and add fewer flavors to your own taste.
Japan
It is not too hard to understand that sushi is one of the most famous Japanese dishes. However, it can be combined with other ingredients for lunch. The Japanese usually prepare so-called bento boxes. Apart from sushi, they can contain rice, any meat or fish, pickles or fresh vegetables, tofu, etc. You can add everything in small portions and create a hearty lunch instead. Another great option is to cook ramen, creamy soup with seafood or meat, eggs, and seaweed. What can be better for lunch?
China 
Chinese food is famous all over the world. Their cuisine is rather simple, but it has a robust and recognizable taste. A Chinese lunch box cannot exist without rice or noodles. Here everything depends on your taste. Add any meat or seafood, some vegetables or even fruit, for instance, pineapples. Mix everything in a sweet-and-sour sauce and enjoy a tasty lunch.
Argentina
Latin America is also known for spicy food. However, their pastry is an excellent choice for lunch. Great empanadas make everyone enjoy a hearty meal very quickly. The dish contains a tasty and crunchy pastry with a juicy filling inside. It can be anything, for instance, mincemeat or seafood. Vegetarians can also cook empanadas filled with vegetables. In addition, Argentinians, as well as Americans, like eating various sandwiches for lunch because they are very convenient and quick to eat.
So every part of the world has its traditional dishes. All of the variants can be easily put into a lunch box. You can choose something for you or just experiment and try to cook dishes from all over the world. Bon appetit!